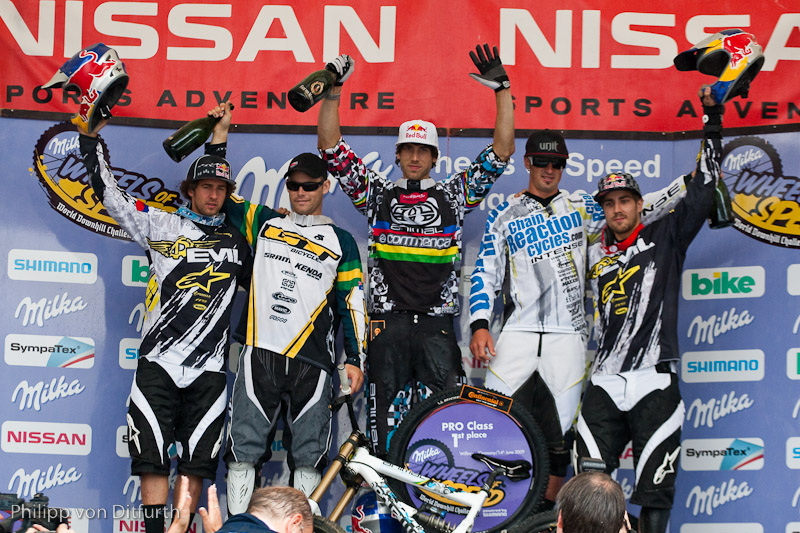 A Willingen, già località tappa di coppa del mondo, è andato in scena nel week end il "Wheels of speed" che, in concomitanza con il campionato europeo di Kranjska Gora e grazie ad un montepremi molto più ricco, ha dirottato parecchi rider europei e internazionali verso la Germania centrale, su una collina e un percorso tecnicamente modesti.
Ha vinto, per un solo centesimo, il campione del mondo Gee Atherton, che ha preceduto Mick Hannah e, di un secondo, Chris Kovarik. Claire Buchar vince tra le donne.
Risultati
Milka Wheels of Sped, Willingen [Germania] – domenica 14 giugno 2009
Classifica finale uomini (agonisti)
1. Gee Atherton (Gran Bretagna, Animal – Commençal) in 1'51"19
2. Michael Hannah (Australia, GT bicycles) in 1'51"20 a 0"01
3. Chris Kovarik (Australia, Chain Reaction Cycles – Intense) in 1'52"34 a 1"15
4. Filip Polc (Slovacchia, MS – Evil racing) in 1'52"52 a 1"33
5. Matti Lehikoinen (Finlandia, MS – Evil racing) in 1'52"79 a 1"60
6. Andrew Neethling (Sudafrica, Trek world racing) in 1'53"16 a 1"97
7. Steve Smith (Canada, MS – Evil racing) in 1'53"19 a 2"00
8. Kyle Strait (USA, Specialized America) in 1'53"21 a 2"02
9. Johannes Fischbach (Germania, Ghost) in 1'53"79 a 2"60
10. Bryn Atkinson (Australia) in 1'54"02 a 2"83
37 classificati
Classifica finale donne (agoniste)
1. Claire Buchar (Canada, Chain Reaction Cycles – Intense) in 2'09"06
2. Antje Kramer (Germania) in 2'15"74 a 6"68
3. Louisa Steen (Gran Bretagna) in 2'43"27 a 34"21
5 classificate
Link
Le classifiche complete (pdf).
Il sito della gara (in inglese e tedesco).
Il report di Matti Lehikoinen (in inglese).